Street Fashion En Pointe – Off Camera Flash Photography On Location – Liverpool
Sunday, 12 June 2022 at 10:00

-

17:00

£130.00
Street Fashion En Pointe – Off Camera Flash Photography On Location – Liverpool
What Will Happen
This Welshot Street Fashion En Pointe – Off Camera Flash Photography on location event will have your models, who are experienced, professional dancers, dancing in the street…. En Pointe! Using natural light, and off camera flash you will learn how to photograph your models in camera. You will learn how to capture movement, how to pose and work with your dancers in an urban setting to ensure you get the very best image to take home. Your dancers will be both male and female and will have more than a couple of outfit changes – think funky street wear and flowing clothing for that perfect swishy movement shot.
Morning Session
The day will start with your first group of dancers/models in various locations close to and around the Albert Dock / Liverpool One / waterfront area – You will be in a small group shooting your dancers/models individually and together as a group.
Switch Over Session
Just before we break for lunch your next group of dancers/models will arrive so that delegates will have a chance of photographing them all together
Afternoon Session
We will now move to a new location with an urban / street feel as well as using the historic grade 2 listed buildings as a backdrop with your new group of dancers/models.
Whether you are a beginner to photography, a photographer who would like to try a new genre, learn a new technique or skill or a more advanced photographer who wants to build their image portfolio, you will be made welcome and we would love to help you get the best out of your camera.
The Welshot Team will be at hand throughout this session to assist and help you get the best from your camera, so you can leave at the end of this session with memory cards full of beautiful photographs and great memories.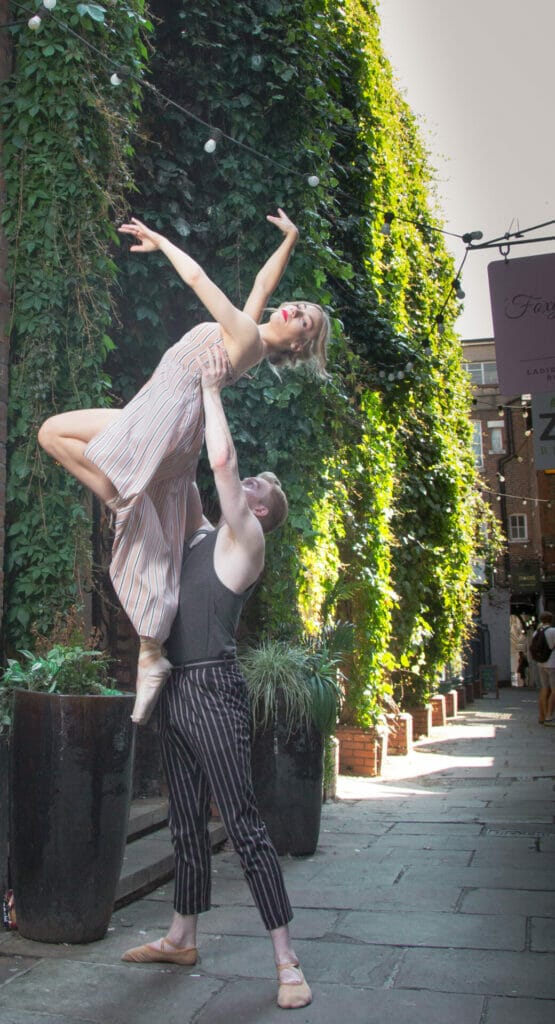 Image Credit(s): Welshot Academy Members – Sarah Rushton / Sue Mannings / Victoria Smith
Please Note: No food or drink is included in the cost of this event This is a fully outdoors event – please make sure you come dressed appropriately. If Welshot decides to postpone this event due to bad weather conditions you will be given several options regarding your booking.
Welshot will be keeping within Welsh Government regulations and recommendations regarding the Coronavirus and Covid 19 Regulations, and we expect our delegates to do the same
Street Fashion En Pointe – Off Camera Flash Photography On Location – Liverpool
You Will Learn
How to use your camera settings and functions
How to shoot using off camera flash
How to shoot for portraiture
How to work and pose a model
How to capture movement of the dancers
How to use and shoot with gels using off camera flash
How to use your location of Liverpool and surroundings around you
How to think creatively
What Welshot can do for you and your photography
The Schedule
09:45 – Meet Pret A Manger (UPSTAIRS) – Liverpool One – Welcome / Introductions / Housekeeping
09:55 – Move to first location – Photography session starts with first group of dancers/models
13:00 – Lunch – not included
14:00 – Photography session starts with second group of dancers/models – new location
17:00 – Finish
Please Bring
Camera and lenses suitable for this event – Standard lens – 18 – 55mm / Kit lens or equivalent
Spare (Fully Charged) Batteries and Memory Card
Refreshments – Snacks or drinks you think you will require during the event
A list of ideas, help, questions etc that you would like to discuss with Welshot Team Leaders
This event is discounted to £104.00 at checkout if you are a Welshot Academy Member. To become a Welshot Member and receive some great benefits check this link.
Related Events