Street Photography – Manchester Christmas Markets – Mini Module with Masterclass
Saturday, 4 December 2021 at 13:00

-

18:00

£40.00
Street Photography – Manchester Christmas Markets – Mini Module with Masterclass
What Will Happen
What could be better than an afternoon of street photography, well, that would be an afternoon of street photography at the 2021 Manchester Christmas Markets with the gang from the Welshot Photographic Academy. Manchester's Christmas Markets have long been a favourite of Team Welshot and delegates, as the perfect place to practice and perfect your street, documentary and reportage photography. From the thousands of visitors that visit to the beautiful festive stalls and chalets which are spread across the city centre, these Christmas Markets are sure to give the photographer a wide range of choice when it comes to capturing the festive spirit in camera.
The Street Photography – Manchester Christmas Market Mini Module with Masterclass will be about helping you to create long exposures in low-light conditions, specifically people but maybe some traffic trails too. We will also, if you need the inspiration or the motivation, provide you with a challenge to help you get your creativity flowing when it comes to street photography.
Soak up the atmosphere and follow the market trail as it winds through the city centre while you learn a thing or three about your camera, the art of street photography and make some great photos. Stopping for a mulled wine or hot chocolate will be a must too.
Whether you are a beginner to photography, a photographer who would like to try a new genre, learn an new technique or skill or a more advanced photographer who wants to build their image portfolio, you will be made welcome and we would love to help you get the best out of your camera.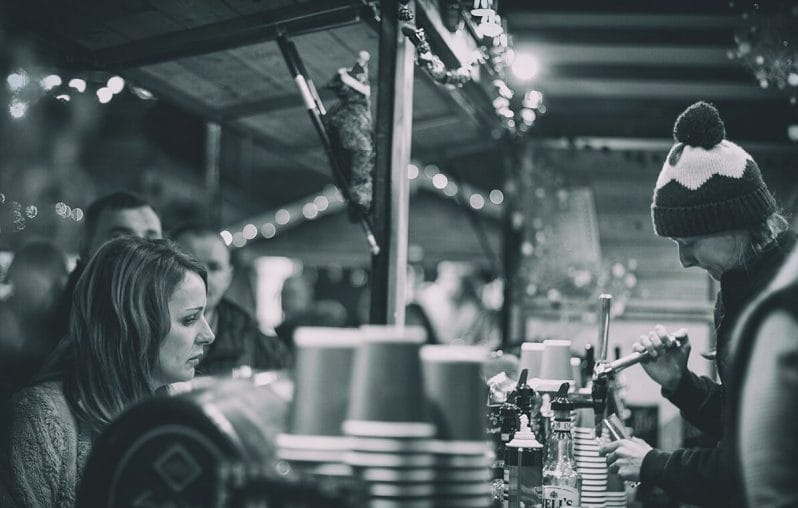 The Welshot Team will be at hand throughout this session to assist and help you get the best from your camera, so you can leave at the end of this session with memory cards full of beautiful photographs and great memories.
Please Note: No food or drink is included in the cost of this event and this is a fully outdoor event – please make sure you come dressed appropriately. If Welshot decides to postpone this event due to bad weather conditions you will be given a number of options regarding your booking.
Welshot will be keeping within Welsh Government regulations and recommendations regarding the Coronavirus and Covid 19 Regulations, and we expect our delegates to do the same
You Will Learn
How to use your camera settings and functions for street and documentary photography
How to shoot street photography and what are the different styles.
How to shoot long exposures in a street scene
How to compose and shoot images for a tourist brochure
How shooting in black and white / colour gives different results
How to capture traffic trails
How to talk to strangers when it comes to photography (if you are approached or want to approach someone)
How to think creatively
What Welshot can do for you and your photography
The Schedule
13:00 – Meet – Welcome, introductions, handouts if applicable
13:30 – Photography starts – Setting up your camera for street photography – Group tuition
14:00 – One to One tuition or will you take part in our photography challenge?
15:30 – Masterclass – Long Exposure in low-light – Group and One to One tuition
17:30 – Hot Chocolate and/or mulled wine. Q&A. Review of images
18:00 – Finish
Please Bring
Camera and lenses suitable for this event – 35mm lens (prime if possible) 50mm 1.8 is also a good option, standard zoom will be also useful
Spare (Fully Charged) Batteries and Memory Card
Tripod / Cable release if you have one
Refreshments – Snacks or drinks you think you will require during the event
A list of ideas, help, questions etc that you would like to discuss with Welshot Team Leaders
This event is discounted to £32.00 at checkout if you are a Welshot Academy Member. To become a Welshot Member and receive some great benefits check this link.
Related Events