Piers & Promenades in Llandudno – A WelshotRewards Day
Seascape / Long Exposure / Documentary & Street Photography
Piers & Promenades in Llandudno – A WelshotRewards Day
Piers and Promenades, this photographic adventure will have it all, from architecture to artistic angles, from North Shore to West Shore, this WelshotRewards Day for Members is the perfect day for those who like to be out and about with their camera capturing the beauty of the world around them.  Llandudno, Queen of the Resorts has it all for the photographer – historic piers, photogenic promenades lined on one side with a wide open expanse of the Llandudno North Shore, to the Victorian listed buildings that will provide you with the features of the colourful architecture. After photographing the pier and bay, we will then move to West Shore and there you will find rock pools and sandy beaches with a backdrop of the Welsh hills and Anglesey in distance – from which the sun will set behind, hopefully giving us a wonderful golden hour, a colourful sunset and magnificent light in what photographers call the blue hour.  If you want to set yourself a bit of a photographic challenge – we've got just the one for you!
You Will Learn
How to use your camera settings and functions
How to shoot seascape/landscape photography
How to compose and shoot images for a tourist brochure
How shooting in black and white / colour gives different results
How to shoot a sunset
How to shoot long exposure photos
How to think creatively
What Welshot can do for you and your photography
Beginner to photography? We're here for you.
Whether you are a beginner to photography, a photographer who would like to try a new genre, learn a new technique or skill, or, a more advanced photographer who wants to build their image portfolio, you will be made welcome, and we would love to help you get the best out of your camera.
The Welshot Team will be at hand throughout this Piers & Promenades in Llandudno – A WelshotRewards Day event to assist and help you get the best from your camera, so you can leave at the end of this session with memory cards full of beautiful photographs and great memories having learned a thing or three about photography and your camera.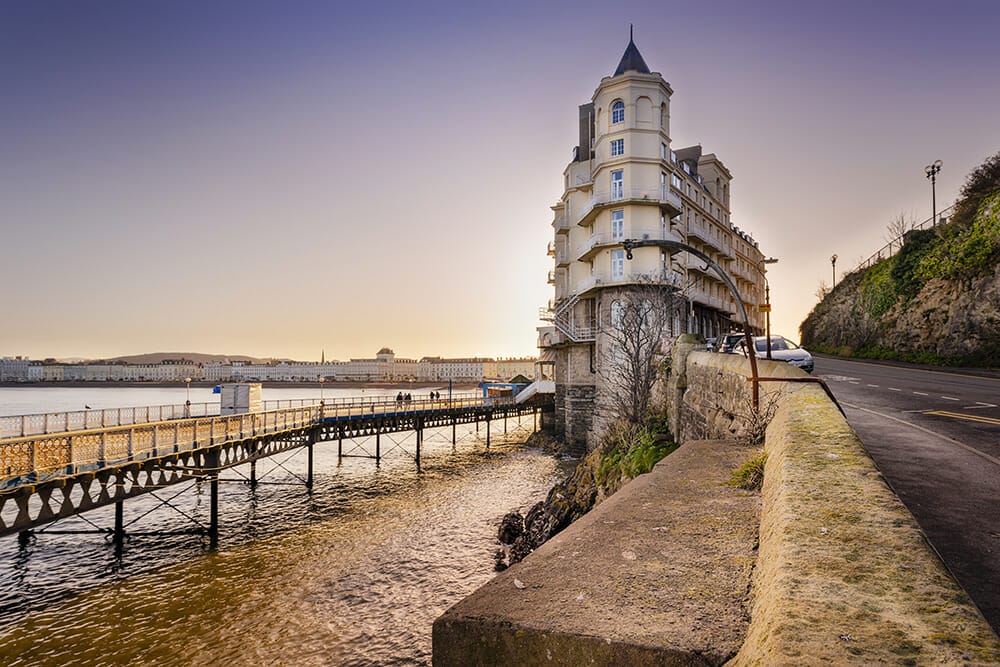 How it works
This is a WelshotRewards Day event and only available for Members of the Welshot Photographic Academy.  Your Welshot Membership MUST be current at the time this event takes place.
£180 will be converted to 10,000 WelshotRewards at checkout and deducted automatically from your account.  WelshotReward Days (including WelshotReward Points) are Non-Transferable and Non-Refundable.
Event Schedule
12:30 – Meet at the Welshot Creative Hub – 16 Trinity Square, Llandudno
12:35 – Head for the Llandudno Prom and Pier
14:30 – Short break – time to grab yourself a hot/cold drink
15:00 – Head for West Shore and photography resumes
16:00 – Photography – the golden hour
17:15 – Sunset and blue hour
18:00 – Finish
Please Bring
Camera and lenses suitable for this event.
Spare Batteries and Memory Card
Tripod / Cable release if you have one.
Refreshments – Snacks or drinks if you think you will require during the event.
A list of ideas, help, questions etc that you would like to discuss with Welshot Team Leaders.
Please Note
No food or drink is included in the cost of this event. This is a fully outdoor event – please make sure you (and your camera) come dressed appropriately. If Welshot decides to postpone this event due to bad weather conditions, you will be given several options regarding your booking.
Event Tags
Related Events