A great benefit of Welshot membership is that you get a 1-2-1 with Eifion where he can discuss your levels of understanding of photographic technique and spend time with you exploring what your camera (and lens combination) can do. Although I'm reasonably proficient in photography (said he immodestly!) and I know my camera well, it would be ignorant of me to claim to know everything. With that in mind, I booked my day with 'Boss Tog' and we set about strolling towards Llandudno Pier…
On this occasion we discussed lead-in lines and framing at length, also what focal lengths might be suitable for different subjects. I had brought 3 prime lenses with me alongside my trusty Gitzo carbon fibre tripod. These were a Sigma Art 20mm, Sigma Art 50mm and a Nikon 85mm, with the camera being a full-frame Nikon D810.
It was a really cold but clear sunny day. So bright in fact that we decided exposing for the highlights would be needed to preserve detail, and in later processing, I could bring the shadows up. The interesting shapes of the handrails on the beach steps attracted my interest and we discussed the viewpoints and tripod settings in order to get the shot I needed. The tripod legs were extended to 3 different lengths which made me sorry that my camera does not feature a tilting screen! However, a pleasing shot was achieved although lifting the shadow areas later in post-production was a real challenge; thank goodness I shoot RAW files. And if you don't, then you should!
We paused to look up at the angles, folds and balconies of the Grand Hotel. I'm very interested in architectural photography which I combine with a heavy monochrome style that I am currently exploring. One angle in particular looked suitable for such experimentation and I grabbed a couple of views.
Onto the pier itself. Sadly, it was the wrong time of day / sun position to get the plank lines along the pier but I did see how the shorter lengths leading to the little box kiosks on the pier could work. The 20mm wide-angle exaggerated the lines well, and now I have processed the photos from the day, this is a favourite already.
Sadly, the main building at the end of the pier was buried under scaffolding and did not offer much inspiration on this occasion. The nearby cafe did not offer much by way of substantial hot food, so we walked back to town to find somewhere for the fish and chips I wanted – it would not be a Welshot occasion without them! On the way, I took some shots of window displays. Some suffer from too much glare from the glass but a few have made it through processing.
Post lunch and discussion on matters photographic, we went back to the beach where I wanted to capture the walk / slipway into the water that the falling tide had now revealed. I spent a lot of time there working with my LEE 10x ND filter. I was using this to blur the water and easily spent 40 minutes there getting multiple exposures for the sky and land that I later combined via Lightroom and Photoshop, with the final image (in both colour and monochrome) pleasing me. Indeed, I'm not sure which I prefer… I like them both! I had to switch to the 50mm for this work as the bulbous glass on the 20mm does not allow for filters, sadly.
The sun was setting and I was keen to find a viewpoint of the Grand Hotel from the pier or pier road. The part of the pier I wanted to shoot from was gated off but the spot we found higher up on the road worked well, I believe. All in all, a good place to finish our shoot.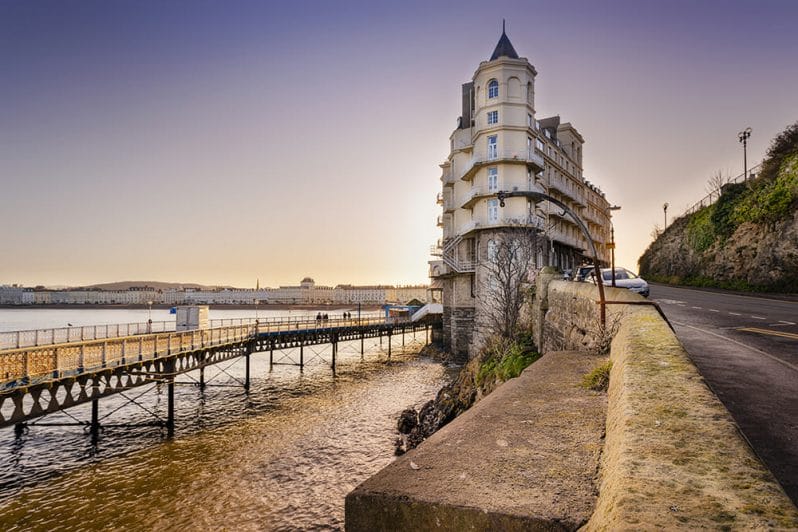 So, the moral of this tale is to take up the offer of time with Eifion, whose encyclopaedic knowledge of matters photographic is well worth dipping into!
Words and photography by Welshot member Stephen Ellis Bell